NOCD is Partnering with Biohaven on their Clinical Trial for OCD
By 

Patrick Carey
•
3 min read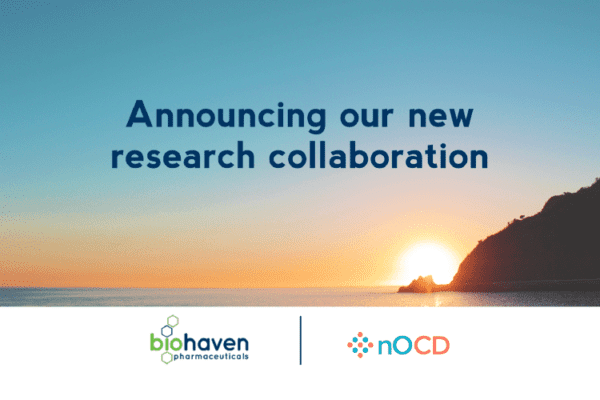 Am I eligible to participate in this study?
Please see this page on our website to learn more about eligibility and sign up today.
At NOCD, we all believe that new research on obsessive-compulsive disorder (OCD) is one of the best reasons to be hopeful. Since half of us have OCD, it's a personal conviction too. That's why we're excited to tell you about a new research partnership we've just embarked on with Biohaven Pharmaceuticals. We'll be telling you a lot more about this partnership in the coming weeks, but for now we'd like to quickly introduce Biohaven and tell you about an important clinical trial on OCD that they're conducting right now.
What is Biohaven Pharmaceuticals?
Based in New Haven, Connecticut, just off the campus of Yale University, Biohaven is a clinical-stage biopharmaceutical company that develops treatment candidates for neurological diseases. Led by Dr. Vlad Coric, whom our CEO Stephen found out about online and met at the IOCDF conference, Biohaven is now conducting a trial on an investigational medication for OCD.
What is Biohaven researching?
We've been meeting with the Biohaven team in New Haven and witnessing just how dedicated they are to bringing possible new medication candidates all the way through the clinical trial process. One of the compounds Biohaven is currently investigating, BHV-4157, is a glutamate modulator. Glutamate is a neurotransmitter, like serotonin and dopamine, but there haven't been as many medications that modulate it. Since there's a growing body of evidence that glutamate dysregulation could be involved in producing some OCD symptoms, Biohaven is conducting a phase 2/3 trial of BHV-4157 for OCD.
How is NOCD involved?
Because it can be really difficult to get the word out about clinical trials, NOCD is partnering with Biohaven to help get the word out about their ongoing clinical trial. It's always been really difficult for research teams to recruit participants, partly because of the challenges of finding the appropriate participants and partly because there's always a lot of hesitation around trials of new psychiatric medications.
This is where NOCD comes in: we can tell our community about a research team that's mission-driven, and we can help people learn about the trial so that some of their fears might be comforted. We know there's a lot of skepticism toward pharmaceutical companies, but we wouldn't have partnered with Biohaven if we hadn't seen how dedicated they are to trying new things in the hope that one of these new medications really will help.
Why is NOCD involved?
The whole team at NOCD wishes we had more effective treatment options for ourselves and others. While one can never say for sure whether or not a particular clinical trial will be successful, the constant quest to bring new medications from the minds of great researchers out into the real world is exciting and inspiring. And if we can play a role in making this process more efficient and less cumbersome for everyone involved, we'll make our own future feel more hopeful too.
In addition, the NOCD team believes we should reconsider how we view industry research. When one pharmaceutical company is criticized, the stigma around pharma as a whole grows, making it more difficult for new research to occur. One of our main goals at NOCD is to support researchers in their work, because we believe in their potential to create much-needed change for the OCD community. Research and development of new medications to treat OCD has been lacking. This is why NOCD is excited to partner with Biohaven as they investigate a potential new pharmaceutical agent in patients with OCD in their current clinical trial.
Am I eligible to participate in the study?
Please see this page on our website to learn more about eligibility and sign up today.
---
If you or someone you know is struggling with OCD, you can schedule a free call today with the NOCD clinical team to learn more about how a licensed therapist can help. At NOCD, all therapists specialize in OCD and receive ERP-specific training. ERP is most effective when the therapist conducting the treatment has experience with OCD and training in ERP.